Welcome to SP Lions Club
Chartered 20th May 1976

LCSP Delivers on Pledge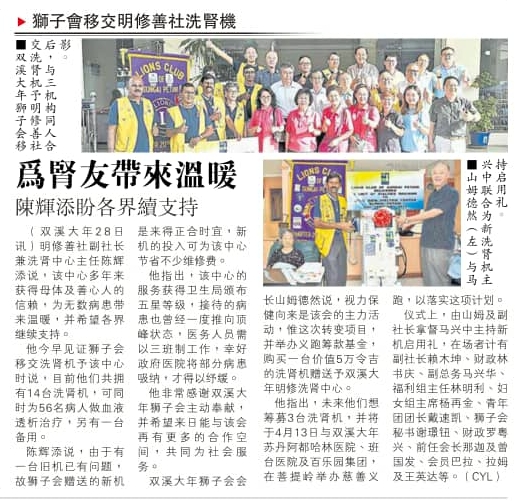 THANK YOU to all the SPONSORS & PARTICIPANTS of the Charity Fun Run who helped to make this project a success.
Click for Photos
Help us to help the disadvantaged
Follow us on our "FaceBook" page for information on all the projects we carry out. Each month we engage in activities to help those in our community who are less able to help themselves. We join with other NGO's to collect blood for the hospitals, provide free eyesight screening for schoolchildren and the public at large, sponsor spectacles for needy schoolchildren and a host of other things. Check our 'Activities' page for upcoming events.
Recycle your Ring-Tabs
Next time you take a drink from one of those cans with a ring-pull tab, think - "Prosthetic Limb', and collect the tab. Each year we try to pass as many tabs as we can to the Chee Hoon Khor Moral Uplifting Society (Penang) to be used to obtain funding for the Royal Thai Foundation. These funds are used to provide prosthetic limbs to qualifying members of the public when the Foundation visits Penang (around May). In 2016 we handed over in excess of 150Kg of tabs. You can contribute by passing your tabs to any of our members, or anyone who knows our members, or even directly to Chee Hoon Khor.
Visit other Lions Club Websites...
---

Project Photos
---
Charity Sponsors...